An exclusive and sophisticated online trading platform like no other with integrated tools to seamlessly trade and monitor the markets. Traders can easily view market activity, place orders, and track orders and positions via the premier order management system.
And, it's free to R.J. O'Brien clients!
Trading Tools
The RJO Futures PRO order routing tools are easy to use, efficient, and provide key market information. Choose from the following interfaces:
Spreadsheet Trader: Customizable spreadsheet-based trading application that allows traders to track the state of a wide collection of markets using their favorite studies, conditions, and alerts.
Order Ticket: Integrated depth-of-market and order management interface that minimizes use of screen real estate.
DOMTrader: Professional order-entry application that provides market transparency.
Order Desk: Comprehensive desk-trader tool that attaches to any application, such as a quote board or a chart.
Key Features
Free 100K simulated account with real time data & execution
Click N' Trade – one click trading from charts, price ladder (DOM) & order ticket screens
Click N' Drag – cancel/replace orders without typing
OCO orders with GTC capability
Alerts based on price, study, or time can trigger order placement
Options window with options calculator and 'what if' scenarios
DOM Trader (price ladder)
Major chart studies – moving averages, volume & open interest, RSI, Oscillator, DMI, etc.
Quote Boards
Time and Sales
And more!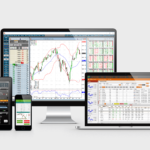 Orders and Positions
Monitor and manage futures accounts using real-time prices with Orders and Positions. The Trading Summary shows all daily trading activity by account or across all accounts. Account information can be exported to a Microsoft Excel® spreadsheet or as an HTML file.
Microsoft Excel is a registered trademark of Microsoft Corporation in the United States and/or other countries.
Support
If you were unable to find answers to your questions regarding RJO Futures PRO in our FAQ section or through our Training Videos feel free to reach out via phone or email listed below.
Phone: 1-888-543-1951 or 1-312-373-5085
Email: RJOFPROSupport@RJOFutures.com
Chat: Live Support